Photo By: S. Mahinsha and S. Gopakumar


Vempatti Ravishankar is an accomplished Kuchipudi dancer from Kuchipudi Art Academy, Chennai. He is disciple of Vempatti Chinna Satyam, and is also an accomplished vocalist.
Vempatti Ravishankar can be reached by email at
academy@kuchipudi.com


Sounds of the 'Om nama shivaya' chant fills the hall, as a huge Nataraja idol beautifully attired and decorated with flowers, looks at you majestically. The fragrance of incense sticks gives a spiritual feel. And the framed black and white photographs of Kuchipudi dancers, in chronological order, from the 1970s, decorate the wall, and create the ambience of a dance museum. The music accompanying the dancers at practice in the adjacent hall trickles in as we meet the veteran guru Vempatti Chinnasatyam and his son Ravi Shankar at their institution and home, 'Kuchipudi Art Academy' at Raja Annamalaipuram Puram in south Chennai. Hailing from the village of Kuchipudi in Andhra, Chinnasatyam moved to Chennai, had a stint in the tinsel world and founded the Kuchipudi Art Academy in 1963. He has trained thousands of students here including stars like Vyjayanthimala Bali and Kamala. He systematised Kuchipudi training and 'reformed' the style as well. Today, his institute is at the stage of transition. At 77, he guides his sons who have taken over the responsibility of taking forward a legacy. While the elder son Venkat is in charge of the administration, the younger son Ravishankar is a performing artiste and also handles classes here. The father-son duo spoke at length to Aruna. S of KutcheriBuzz . . .

You have been running this institution for over 40 years now. How has it grown?

Vempatti: It has been good. We've had students from all over India and many from abroad, especially America. They are all performing and having their own schools. And here we don't take fees from students.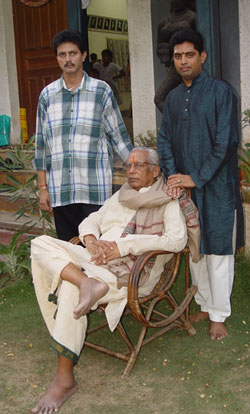 How do you run the school then?
Ravishankar: We're funded by the Central government. Some students give donations like a guru dakshina. The rest of it is from the performances we give.
Do you get to present many performances?
Ravi: Not really. It is very difficult to get programmes these days. It is actually not very sufficient. We also have our own staff to support.
During the December Season, for example, we find your institute perform only at Nungambakkam Cultural Academy's fest. What about the other sabhas?
We have a long association with that sabha and have been performing there for so many years. Some of the other sabhas hesitate to invite us because they think Vempatti sir will charge a lot! Only when you get to know him, you will realise he i1s a simple person. Besides in Chennai, it is difficult to find vocalists who sing in '6' shruthi.
Is it mandatory to sing in '6' shruthi for your music?
In dance-dramas we need male and female singers. They can combine only in '6' shruthi. For solo performances, 5 or 5 - 1/2 shruthi is fine.
Have you tried training vocalists to sing according to your requirement?
We did. The sad part is that after training for almost a year, they just leave. And they sing for other dancers. Besides, the musicians' fees are so high these days. And we are very particular about the way the music is performed. Even the accompanying instrumental music has set patterns. One cannot just follow the vocalist or play anything. That is why most of the accompanists find it difficult to play here. But we want to retain the music as it was composed. Because my father has done the choreography according to the mood of the music. So, if we change the music pattern, the beauty of the dance choreography will be lost. Today we find very few artistes, mostly seniors, who do not compromise on the music. Many others leave it to the orchestra to perform what they wish.
Do you use recorded music for performances?
Never. The problems that dancers face with musicians has led to the use of recorded music. But there is no life when you use recorded music for a performance. It will lack the emotion that you find in a live orchestra. Only when there is an interaction between the musicians and the dancer, will the performance be alive and create the rasa.
Who has been composing the music for your dance-dramas?
P. Sangeetha Rao. He is our music director and has been with us for almost 25 years. Earlier it was Shri Bhagavatulu Sitarama Sharma. He belongs to our Kuchipudi village. He went on to work with Kalakshetra and is a very busy artiste now. The music he composed for us is still evergreen. In those days, my father used to sit with him and specify what exactly he wants in the music that would blend with the mood of the verses. They worked as a team.
So, what about the dance dramas created by your father? Have you retained the choreography over the years or has it changed?
Ravi: It continues to be the same. If he feels like making changes, he does it. We keep training the new comers to take the different roles.
Do you take up new themes for choreography?
Recently, we did a ballet on 'Navadurga'. But everything is done with my father's guidance.
We have read about the changes in the presentation style and repertoire of the Kuchipudi dance style, made by your father. Can you explain?
>Ravi: Kuchipudi was a drama oriented style. There were no individual or solo pieces. His guru started creating them and my father developed them later on. It was in a crude form and from the way it was presented it was thought to be a folk form. But when my father read the Natyashastra, he realised the classicism in Kuchipudi and refined the style. He did face a lot of hurdles. But he proved that Kuchipudi is a classical dance form.
What were the changes he made?
He devised new adavus, patterns and formats. He created the movements based on the Natyashastra. The 'charis' shown in the photographs here (on the wall), are not found in any book. They are only in the script form in Natyashastra. He imagined the movements, visualised them and added beauty to them. Reading the book, my father would fix the movement, then I was made to pose for the photographs and these pictures were drawn based on them, with Indian ink. Several students come here to learn these specifically.
Is this work available in print? Have you published a book with these pictures?
No. This is only for those who train at our academy. Whoever wants to learn is welcome here.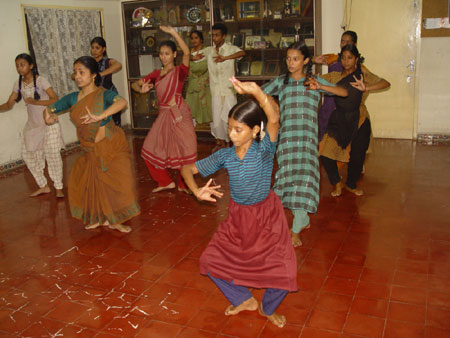 How many students do you have at present?

Ravi: Right now there are about 38 students. So far my father has trained about 8000 students from various places in the last 40 years. We have classes in the mornings and evenings, Monday to Saturday. School-going students come in the evening. House-wives and serious students who wish to pursue Kuchipudi as a career and those doing correspondence courses in dance, come in the mornings.

How do you see the transition in the institution. Have you taken over? Does your father still teach?

Ravi: We are always under his guidance. The new students begin their classes with his blessings. He does the pooja and starts teaching them on an auspicious day. Later on, we handle the classes and follow the rules and regulations. He takes the major decisions and is always there.

You also seem to have artistes from Kuchipudi teaching here...

One of the teachers here, Ramu, trained under my father and was deputed to teach at various places. Now he is with us handling classes here. We also have our students, who are employed at Kuchipudi, but perform with us when we have shows.

How do you see the future of your institution?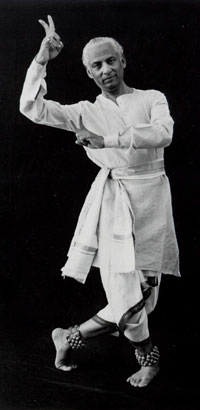 Vempatti: It will go on. What can we say now. We have to wait and see. The students need to be dedicated. Ravishankar: He is a very practical man. On day one, when he started the school, he did not think what it would be so many years later. When he opened the door and entered, the place was full of snake pits. He cleaned the place. Everyday, he used to pour water around, draw kolams and await his students. If they came, he taught them. If they didn't, he didn't lose anything. He only saw each day as it came. He didn't have any expectations. These days, we find students who come according to their convenience, may be once or twice a week. As an institution we can't change our rules. We are very strict about attendence. Some students who can't come daily just leave, because they can't follow our rigorous routine. We also make sure that the students practise the adavus or the basics, everyday. It is compulsory, irrespective of senior or junior classes. If students who realise the value of regular classes come here, then we do have a good future. We are always ready to give our best, to spend time with them 24 hours. The students need to have more commitment and a passion for the art. You can contact Kuchipudi Art Academy at Ph: 044-24937260. E-mail: info@kuchipudi.com,
Website: www.kuchipudi.com
From: http://www.kutcheribuzz.com/features/interviews/vempatti.asp