Debamitra Sengupta has been appreciated both as a performer and choreographer in the field of classical Odissi dance in the country and abroad for the last 18 years.
She is blessed to groom her talents under the tutelage of Padmabibhushan Guru Kelucharan Mahapatra, Padmashree Smt. Sanjukta Panigrahi and SmtSutapa Talukdar.
Debamitra is a graded artist of Doordarshan, Kolkata, EZCC and Pracheen Kala Kendra, Chandigarh.
Besides performing in several prestigious programs all over India, Debamitra presented Odissi recital in prominent places of North America (San Francisco, Atlanta, Boston, New York & Washington D.C.) and enthralled distinguished audiences all along.
Debamitra – Odissi in North bengal :
A major part of Debamitra's childhood was spent in Darjeeling (her father was a professor of history in Darjeeling Government College) so she always had a special feeling for North Bengal.
In 2006 Debamitra was invited by I & CA Dept. to perform Odissi at the Teesta-Ganga Utsav, Coochbehar after which shows came pouring in from different parts of North Bengal. She toured Coochbehar, Alipurduar and other parts of Jalpaiguri several times with her troupe from Kolkata. She also performed in Kurseong and Siliguri quite a few times.
A few of Debamitra's noteworthy participation in North Bengal includes :
Duars Utsav – Alipurduar (2007)
Teesta-Ganga Utsav – Coochbehar (Both in 2006 & 2007)
Raas Mela – Coochbehar (2007)
Book Fair – Coochbehar (2007)
State Tea Garden& Forest Village Cultural Festival, Govt. of W.B – Banarhat, Jalpaiguri (2007)
Annual Conference - Uttar Banga Krishi ViswaVidyalaya, Pundibari, CoochBehar (2007)
Foundation Day Celebration – B.Ed College, Bhatibari, Jalpaiguri
Gradually people of this part of Bengal developed interest in Odissi (this particular classical dance form was not so prevalent especially in Coochbehar & Alipurduar) and requested Debamitra to start a branch of her Odissi Dance Academy in Dooars. In one of Debamitra's Odissi program in Dooars, Debamitra chanced to meet a dance loving family from Alipurduar (Dr. Tirthankar Debnath & his wife Smt. Urmi Debnath) who were particularly interested in starting an Odissi training centre at their residence.
Their daughter, Adrija, is also an ardent fan of Debamitra and is a very talented budding dancer of Alipurduar who is sure to go places.
At their behest & encouragement from many other dance loving people of Dooars, finally Debamitra started a branch of her academy at Alipurduar in March, 2007 which is running successfully over a year now.
Debamitra visits every month during the 3rd week and stays 2-3days ands lessons to 30 odd very vibrant students who are really picking up the intricacies of this sublime classical dance form very fast.
In November 2007 Debamitra was invited to perform at Raas Mela, Coochbehar where they had two successive shows, we presented 'Raas Lila' there (an Odissi dance ballet choreographed by me on Padabali Kirtan) with 20 students from her Alipurduar Academy along with the dancers of Kolkata.
Just few days back, on April 12, 2008 this Dooars branch of her academy presented a fabulous show of an Odissi Extravaganza at Municipal Hall, Alipurduar on the 1st anniversary of their academy there in presence of overflowing audience of dance loving connoisseurs of Dooars, along with several dignitaries of Dooars and Hon'ble Forest Minister of West Bengal.
This 3-hour Odissi classical dance show (named, 'Odissi Nrityamela, 2008'), first of its kind in Dooars area – to some extent, first of its kind even for a major part of entire N.Bengal, as some experts commented after cherishing the show, comprising of some very rare, as well as, traditional Odissi master piece items performed by Debamitra, her senior disciples of Kolkata Branch and her bubbly, passionate students of Alipurduar Branch of Debamitra's dance academy.
This show indeed created a mark in Alipurduar and adjoining areas.
Debamitra is also composing a few traditional Odissi items for her students in Alipurduar.
Debamitra's students are attentive, practice very hard, respect Debamitra and love her like anything.
Debamitra is also well known for grooming new talents, teaching is indeed her forte. Debamitra is the founder director of her dance academy 'Kolkata Mayur Lalit Dance Academy' where she imparts lessons on Odissi and contemporary styles to a large number of vibrant students. Since March 2007 a branch of Kolkata Mayur Lalit is running successfully in Alipurduar, North Bengal.
top ...
Debamitra as a Choreographer -
Being a natural dancer, Debamitra used to enact the scenes of the 'Ramayana' and the 'Mahabharata' at the tender age of 5 while her grand-parents read out the epics to her. She needed no music, an inherent sense of rhythm helped her to express herself through her limbs spontaneously and vividly even at that age.
For decades now she mastered in this art form, received detailed training in the field of Chhou, Yoga, Mime and Classical dances of India. She treasures her association with the famous Gurus and Performers of India who groomed her body, mind and soul.
The creativity she inherited naturally was nurtured by her practice and researches helped her to compose and choreograph over the subjects which are attractive, appealing both aesthetically and spiritually.
Her keen interest in choreography has led her to experiment with unique forms like Padabali Kirtan, Classics from Bengali Literature, Rabindra Sahitya – thus she created innovative movements and choreographed several fascinating productions which were widely applauded.
Some of her significant productions that have earned rave reviews :
1. Odissi Dance Ballet based on Padabali Kirtan : RAAS LILA.
(For this unique dance drama, Debamitra has been nominated for Production Grant (2006-07) from Dept. of Culture, Govt. of India, New Delhi)
Uniqueness of this dance ballet is innovative composition of Odissi dance on Padabali Kirtan.
Based on Padabali Kirtan showing the joyous mood where the Gopinis dance with Krishna in a moonlit night of autumn beside the river Yamuna. In a traditional Kirtan style the dance drama begins with 'Gourchandrika', an invocation to Sri Chaitanya dev and ends with 'Maatan' where all the 'bhaktas' enter the stage in a Sankirtan style with Khol, mandira and flowers. 'Sringar rasa', the love for Krishna melts into devotion between man and the almighty.
Duration: 50 mins
Vocal Support : Smt. Seema Acharya Chaudhury
Research in Khol & Pakhwaj : Smt. Debamitra Sengupta
Dancers : Mayur Lalit – Smt. Debamitra Sengupta & team
Choreographed & Composed By : Smt. Debamitra Sengupta
2. Rabindrik Dance Drama in Odissi : 'Chitrangada', innovatively composed bi-laterally on Kabiguru
Rabindranath Tagore's creations, the drama (natak) – Chitrangada along with the dance drama(geeti-natya) – Chitrangada.
The presentation has been designed to render a two-dimensional flavour of the chastity of pure Indian Classical dance as well as the indigenous Rabindrikflavour.
(Very recently this sublime production by Debamitra has been duly recognized by a MNC cd/dvd house and 'Chitrangada' was released all over India in the form of vcd/dvd by them).
Duration : 60 mins.
Vocal Support : Smt. Chandrabali Rudra Dutta, Sri. Subrata Sengupta & others
Narration : Sri. Kausik Sen
Dance : Mayur Lalit – Smt. Debamitra Sengupta & team
Concept, Script & Choreography : Smt. Debamitra Sengupta
3. Solo Odissi Dance Drama – 'Meghnad Badh', based on Michael Madhusudan Dutta's 'Meghnad Badh Kabya'. Exquisite dance choreography by Debamitra on eloquent recitation against a vibrant music backdrop recreates a treasured experience.
Duration : 20 mins
Recitation : Sri. Kausik Sen
Pakhwaj : Guru Banamali Moharana
Dancers : Presented as a Solo item by Debamitra
Choreographed & Composed By : Smt. Debamitra Sengupta
Kolkata Mayur Lalit Dance Academy
Founder, Director : Smt. Debamitra Sengupta
Background -
Debamitra started teaching Odissi at a very early age of 20 at Gurukul, a premier school of classical dance in Kolkata. Debamitra groomed students at Gurukul for over a decade and became very popular as a teacher. Teaching is indeed her forte; She enjoys teaching as well and thought of starting an academy of her own which will be distinctively different.
Thus Kolkata Mayur Lalit Dance Academy started with an aim to groom dance lovers and produce perfect passionate dancers, not just performers. Students are given lessons on Natyashastra from a very early age. Along with traditional Odissi items choreographed by Guru Kelucharan Mohapatra, choreographs by Debamitra herself are also being taught here. Students are encouraged to compose and choreograph on their own to enhance their creative skills.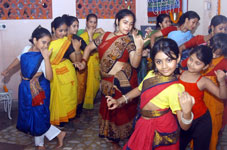 Apart from regular training of Odissi, lessons in Classical music and Pakhawaj are also imparted in annual workshops of the academy so that the children have definite knowledge in music and rhythm along with dance which are inter-related.
Lessons in Yoga are given from the very first day to acquire physical fitness and suppleness which are very essential for a classical dancer.
Students are also equipped with the knowledge on techniques of dance related make-up, costumes, hair-styling, stage craft, thus grooming into a complete dancer after 10 years of rigorous training.
The Academy -
Mayur Lalit started its journey from November 1, 2004.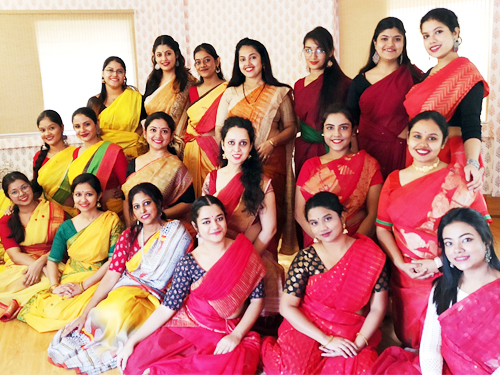 The academy aims at training students to be well versed in the language of classical dance so that they can face knowledgeable audience.
A student taking admission in the academy is either placed in the junior or senior group as per ones ability and passion, age and previous experience plays no role in deciding the category.
Mayur Lalit is government registered organization under 'The West Bengal Societies Registration Act.1961 and affiliated with 'Pracheen Kala Kendra', Chandigarh.
Along with maintaining the regular academic pattern, syllabus and examination schedule of Pracheen Kala Kendra, the curriculum of Mayur Lalit consists of :
For all learners

- Strict regime of

exercise

and

yoga

to build necessary body fitness. An agile and flexible body helps to perform better, for this 'anga shudhikaran' is essential.

Basic dance techniques and 5 Odissi items,

on completion of which they can do 'Mancha prabesh' (Solo recital).
For advanced learners - Along with exercise and yoga, the curriculum includes basic dance techniques and 10 advance dance items.
Since March 2007 a branch of Kolkata Mayur Lalit is running successfully in Alipurduar, Jalpaiguri. ( North Bengal)
Contact Address :
12-D/4/1, D. P. P. Road, Naktala,
Kolkata - 700 047, West Bengal, India
Telephone : +91-33-2471 1246
Mobile : 098316 51531